A quick flight from all other major centres
Halifax is geographically closer to Boston and New York than any other Canadian city, and an hour closer by plane from Europe than any other major North American City. Halifax Stanfield International Airport offers about 150 weekly flights from Toronto, 70 from Montreal, and 85 from Ottawa, with daily flights from Boston, New York, Newark, Philadelphia, and Orlando. The airport is about a 25-minute drive from downtown (by cab, limo, rental car, or shuttle bus), and offers Canada Customs services 24/7, and U.S. pre-clearance.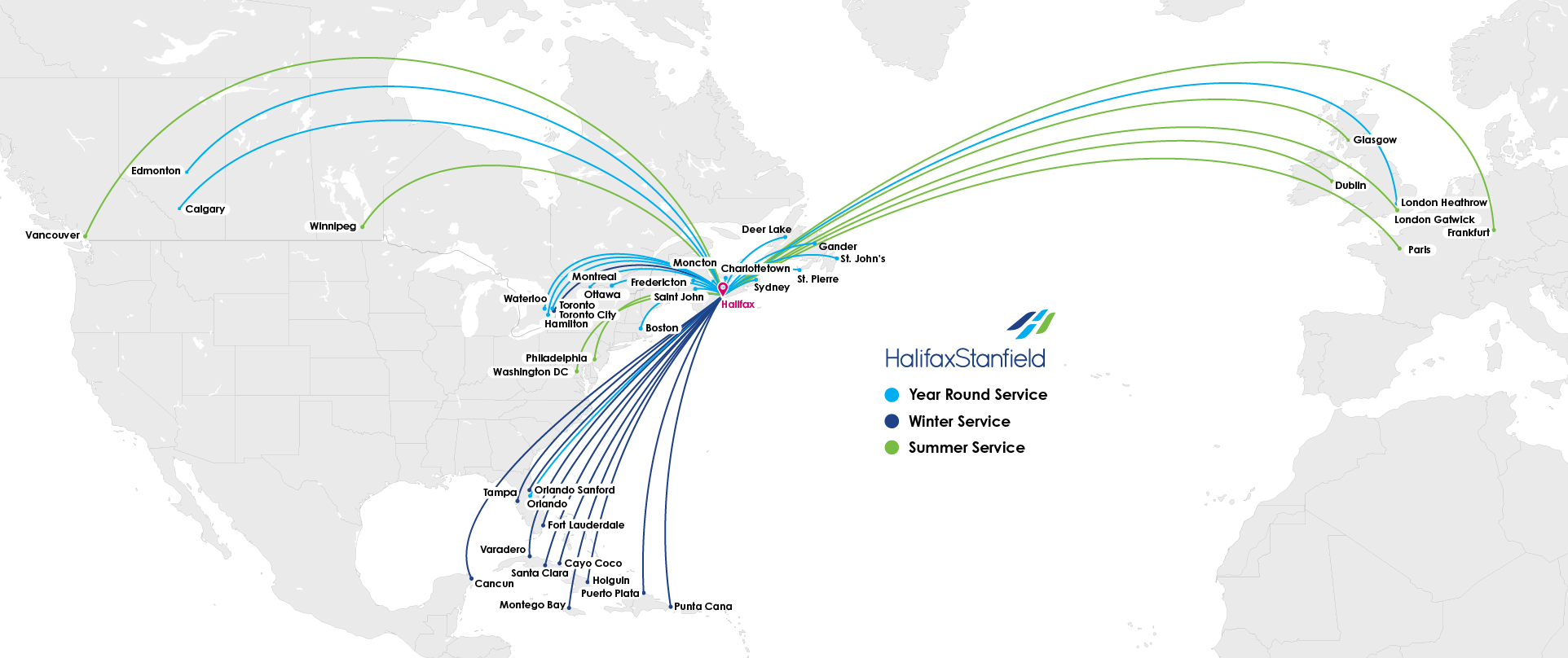 But you don't have to fly
You could choose to drive to Halifax (with a ferry ride or two thrown into the mix for fun), you could take the train (VIA Rail offers scheduled service into Halifax), and given that we're on the coast, you could even come by ship—we're a popular cruise ship destination. Driving to Halifax is an enjoyable scenic experience—about 12 hours from Montreal, 17 hours from New York, and 10 hours from Boston.
A compact city that's easy to navigate
Unless you plan to leave the city, most people find it quite enjoyable to navigate Halifax without a car. Of course, you can still choose to rent one at the airport or any number of downtown rental agencies—on-street parking, hotel parking, and public parkades have you covered. Halifax is a wonderful city for walking and cycling (you can rent a bike or scooter on the boardwalk). You could stroll from one end of downtown to the other in under 30 minutes—and enjoy the sights and sounds while you do. Of course, you can always hop in an Uber, or a cab, or on a bus if you change your mind about the stroll.
Accessibility matters
Halifax is for everyone. We're known for our warm welcome, and of course that includes people with mobility or health challenges. Shop and restaurant entranceways that have a step also typically offer a ramp. The city has accessible pedestrian crossing signals that feature audible signals for the "walk" and "don't walk" intervals. Every Halifax Transit bus has an accessible low floor design, and our ferries are also accessible. Plus, Halifax Transit buses have both audio and video stop announcements and route information. Service animals are welcome on all Halifax Transit vehicles.